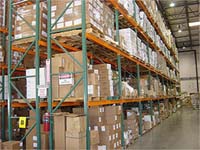 IDF Distribution Services offers you the availability of a distributor that receives the goods, stocks them in a secure bonded warehouse , and distributes them according to the customers' needs and policies.
We are cover all US domestic markets as well as LatAm and Caribbean in Duty Free and several Duty Paid markets.
Our goal is to deliver taylor-made solutions for suppliers and thier products via on-time deliveries, stock management, customer services, reports on request, product handling and custom clearance and market visits.
IDF Distribution Services handles a wide range of products covering a number of markets including tobacco products, liquors, cosmetics, food and beverages. Contact Us Today and let us help you get your product to a larger market and increase your customer base!
What we do...
Our objective is to be the best logistic operator supplying a comprehensive service to our customers. Our operation is divided in three businesses:
• Vessels supply in the ports of Miami , Ft Lauderdale and West Palm Beach.
• Third Party Warehouse service for stockage of goods in a bonded warehouse
• Distribution services of products (beverages , liquors , tobacco) for Duty Free and Duty Paid markets in US , LatAm and Caribbean.
IDF offers its services at competetive prices freeing our customers from the cost burdon of having full-time employees or a fixed structure with a lot of responsabilities.
How we do it...
With the knowledge we have of the markets , we are prepared to act inmediatly on your expectations. Through just-in-time deliveries, we achieve the highest standard of service along with our safety in warehousing and freights. Using our vast distribution network and contacts with key operators in the region we get your goods to you on-time, everytime. We also provide value-added services such as market visits, customer meetings and after-sales assistance.
Markets

Through our extensive knowledge of the markets, and ability to share that with our suppliers, we improve business for everyone. If a supplier cannot reach a customer directly, IDF is ready to step in and contact them directly with a professional approach. Using product presentation, sales negotiation, pre-agreed market visits, staff engagement, and detailed reports; the result is high quality distribution and constant improvement of our processes.

Logistics

We offer you the best logistic services from a Miami based distributor. Your product is unique for us, and thatís how we treat every single item. With our 10,000sq foot warehouse near the air and sea ports, we minimize transportation and improve timing. Our staff can respond to your request in order to inform about freights, timings , stock situation, product freshness, etc. Through our system, we are able to work with an on-demand plan and a pre-arranged Forecast to stock product under your expectations.

Distribution

Having a lengthy history of being involved in many markets, our staff has the seniority to act as intermediate with the customers and distribute your goods with the expected sense of responsibility. We can deliver the order directly from our Miami based warehouse, using our Customer Service as key contact for the customers, and our senior management staff oversees the entire operation. Within our system, you get tracking reports, detailed pricings, sales information , pending order and financial status, and open debts.
Our objective is to have the proper product, in the proper conditions on-time, everytime. Contact Us Today for more information and let us help your business grow!